Skip Navigation
Website Accessibility
About Us
---
Mission
As a Colorado 501c(3) organization, Denver Adaptive Divers provides support, education, specialized training and dive travel to qualified individuals with physical disabilities to enable them to become an integral part of the sport of scuba diving.
Vision
DAD is a leader in the Rocky Mountain Region for removing barriers for qualified individuals with physical disabilities to enable them to participate in the mobility and joy of scuba diving.
Visit with the divers who have or will benefit from your generosity. Hear firsthand how your support is changing lives!
Who We Are
Denver Adaptive Divers is a SCUBA diving training program that provides Open Water Diver certification to people with a variety of disabilities. We provide the opportunity for people with various disabilities to discover the freedom of movement under the water through SCUBA diving.
Who We Serve
DAD works with people with various disabilities, including but not limited to spinal cord injuries, Multiple Sclerosis, amputees, visually and hearing impaired.
Our Board of Directors & Medical Advisory Board
The remarkable growth of DAD in 2019 drove the need for a Board of Directors and Medical Advisory Board to guide future endeavors. DAD sought to attract board members with significant experience in scuba training; fund raising; nonprofit management; and services for adaptive athletes. In each we found that spirit that inspires others to strive for personal success.
---
John Sherman
Co-Founder, Chairman of the Board and Executive Director
Contact John: johnsherman @denveradaptivedivers.org
John has been scuba diving for more than 42 years. He teaches a full range of students from beginners to those aspiring to become assistant scuba instructors. He is a specialty instructor for most of the courses offered by SSI. He also oversees the technical repair and services department of Denver Divers and leads four to five trips per year. The trips vary in size from small groups to the largest - the annual Adaptive Dive trip May.
Throughout his professional life he specialized in the development of new companies in a variety of roles from salesman to CEO. He has been a scuba instructor for the past ten years. He co-founded DAD with fellow board member Janine Melberg in 2016. His love for scuba diving has been a lifelong passion that brings him great joy. Sharing the experience with those new to the sport makes his life that much richer.
Janine Melberg
Co-Founder, Director and Secretary
Contact Janine: janine @denveradaptivedivers.org
Janine became active in fundraising after graduating from Stanford in 1983 when she co-chaired events for her alma mater. Starting with phone-a-thons for smaller donations, Janine became in involved with a variety of auctions. She has worked on auctions small (a $6,000 auction of items from Olympians in the Bay Area) to very large events (the 100th Anniversary of the Stanford vs. UC Berkeley Big Game Auction which raised over $1.1 million). Community activities in Denver have included the Colorado Children's Campaign, the Colorado Ballet, the Denver Ballet Guild, Horizons at Colorado Academy, Crestmoor Community Association, Team 180 Lacrosse, and more.
In 2016, she co-founded Denver Adaptive Divers (DAD) with John Sherman. As the DAD fundraising coordinator, she has overseen the annual fundraising dinners beginning with a 57-guest dinner in her home raising $18,000. Most recently a dinner for 125 people, including a silent and live auction, raised more than $100,000.
Corky Vickers
Director and Treasurer
With a BS in Chemical Engineering, Corky has over 41 years' experience in the oil and gas industry. His experience has been focused in the upstream side of the industry in all areas of operations and management. He began his career with Amoco Oil and Gas in West Texas and and now works for Ovintiv mentoring the young engineers throughout the organization.
His hobbies include a variety of outdoor activities, but none compare to his love of scuba diving. Corky has been an instructor for 12 years and a classified instructor since 2016. Working with adaptive students has been his most rewarding aspect of his professional career.
Craig Hilton
Cognitive Program Director
Contact Craig: craig @denveradaptivedivers.org
During his 20 years in the Denver Fire Department, Craig acquired skills and experiences that make him uniquely suited to assume a management role in DAD. As a Public Safety diver and Public Safety Dive instructor Craig was involved in the first of its kind swift-water rescue training and response protocol; dive rescue training; and procurement of rescue equipment. As one of three board members serving the nonprofit National Firefighter Ski Races, Craig oversaw fundraising for the benefit of burn survivors. He now serves as a valued open water diver and extended range instructor for Denver Divers and DAD. He leads two or three trip a year, frequently including adaptive divers as a part of the group.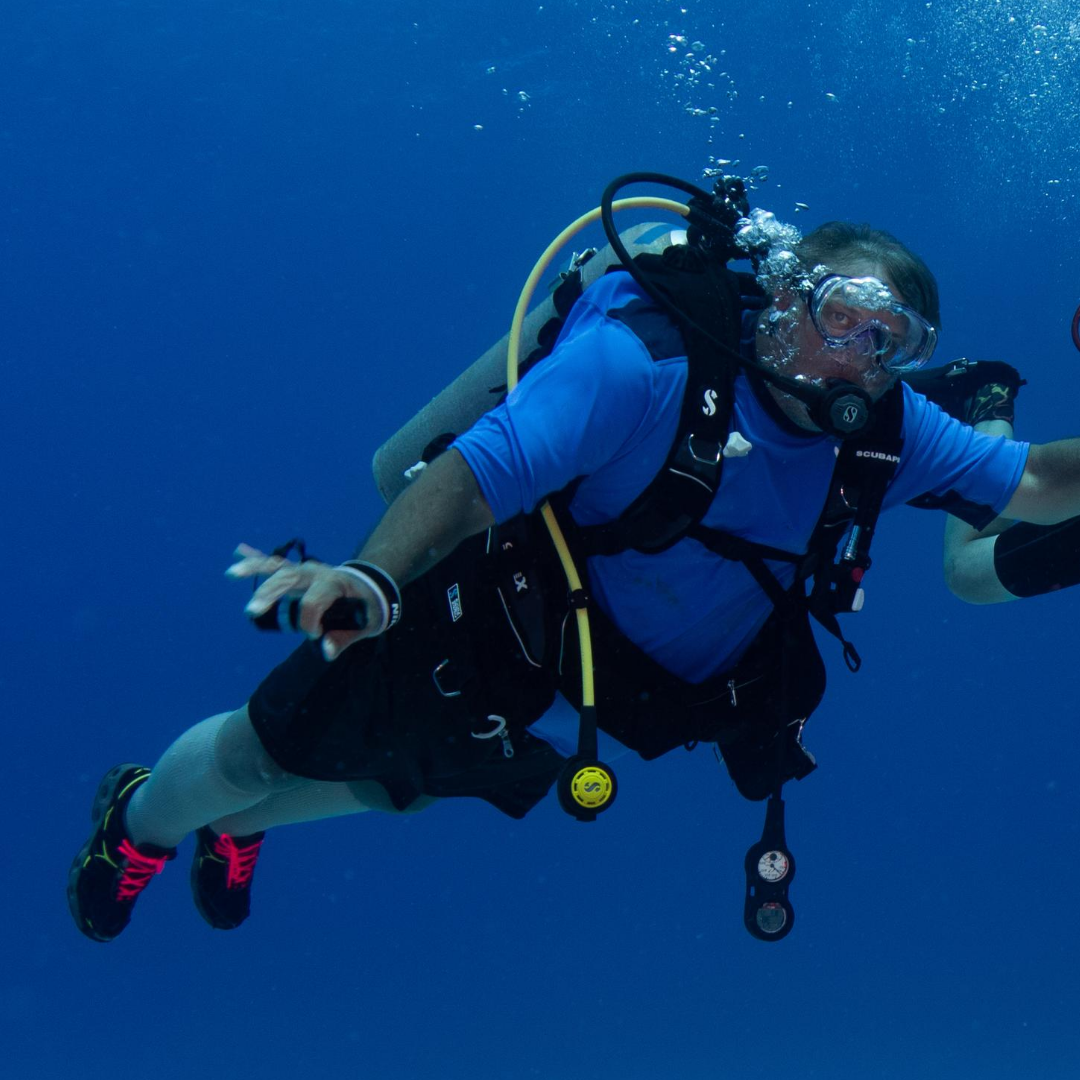 Tim Ashley
Director and Adaptive Diver
As CEO of ARISE LLC, Tim is responsible for implementing a program which introduces people with disabilities to adaptive recreation opportunities. His organization also raises money for purchasing adaptive equipment. Tim holds a Master of Arts degree in Mental Health Counseling and worked for five years at The Independence Center as the Peer Support Coordinator. In that position he developed new and innovative recreation programs for people with spinal cord injuries.
Tim encourages the belief that life doesn't end with acquiring a disability, and there are ways to still enjoy life to the fullest. Tim is constantly searching for adaptive, adventurous opportunities for people with disabilities to enjoy. Tim is a highly active advocate for equal access and equal opportunity. That includes finding a way to make all recreation activities available for all, no matter their ability. Tim states, "we have a long way to go as far as leveling the playing field, but organizations such as Denver Divers are taking initiative to make this happen. I am very proud to be a part of this organization."
Dan Fowler
Director
Dan has been actively engaged with several nonprofits for over 35 years. Dan began his involvement with adaptive sports in 1982 with the National Sports Center for the Disabled (NSCD) as a volunteer ski instructor for people with disabilities. He served as an NSCD volunteer and full-time staff member with for many years.
Dan also served on the Board of Directors of Adaptive Adventures for many years, most recently as President of the Board.
Dan is an active world traveler, alpine skier, fisherman, sailor, master scuba diver, and water skier. Dan holds a United States Coast Guard 100-ton masters captain's license, and his dream is to provide sailing and scuba excursions for people with disabilities. He is passionate and committed to helping others with disabilities through adaptive sports opportunities and fundraising events.
Dan is the Owner and Broker of Fowler Property Management founded in 1997. Fowler Property Management provides high-quality property management to over 500 properties throughout Boulder County, Colorado. Dan has held a Colorado Real Estate License since 1985.
Margaret Pflueger
Director
Margaret is a partner in the litigation department of Campbell Killin Brittan & Ray, LLC, joining the firm in 2010. Previously, Margaret practiced in San Francisco, California, for over seven years at Landels, Ripley & Diamond, LLP and Jenkins Goodman & Neuman, LLC before she and her husband moved with their family to Margaret's home state of Colorado. Born and raised in Denver, Margaret attended Christ the King and St. Mary's Academy for high school, before heading off to Princeton University for college. After college, she took a year off to travel and work and ski at Vail before attending law school at Georgetown University.
It was her husband Dave's interest in diving that prompted Margaret to learn. She was lucky enough to do her first open water dive on a trip with Dave to Belize. Margaret and Dave then dove together around the world for years, even having gotten engaged while diving at the Great Barrier Reef. Margaret and Dave currently live in Golden with their three daughters. Margaret was grateful to be reintroduced to diving in 2019 through Denver Diver's adaptive program when her husband Dave, who suffers for MS, was chosen as one of Denver Diver's scholarship recipients. Margaret is thrilled to be a member of Denver Diver's Board and thankful for the chance to give back to an organization that brought the joy of diving back into her and Dave's lives.
Shelly Fowler
Medical Advisory Board
Working with individuals with both cognitive and physical disabilities has been a passion for Shelly Fowler for over 25 years. She graduated from Indiana University, Bloomington, with a Bachelor of Science in Therapeutic Recreation and a minor in Psychology. Earning a Certified Therapeutic Recreation Specialist (CTRS) certification in 1997, Shelly earned a Master of Arts in Teaching Special Education with specializations in Learning Disabilities and Behavior Disorders from National Louis University, Chicago, in 2004.
Shelly taught special education in Steamboat Springs before moving to Boulder in 2008.While working in the district as a Special Education Teacher and Learning Specialist, she gained Special Education Administration Licensure. She also became a National Board Certified Teacher (NBCT) for children through young adults with exception needs in mild to moderate disabilities.
Shelly started Four Points, her private education consulting practice, in 2015. At the same time she started working at University of Northern Colorado as an adjunct professor. She remains actively involved in several adaptive sports organizations, and in her free time enjoys fly fishing, sailing, SCUBA diving, and skiing with her husband, Dan. Shelly finds that, "Recreation is my therapy."
Jim Caruso M.D.
Medical Advisory Board
Dr. Jim Caruso is the Chief Medical Examiner and Coroner for the City and County of Denver. He received his undergraduate and medical training at the University of Illinois and completed a Pathology residency and a fellowship in Diving and Hyperbaric Medicine at Duke University Medical Center. Dr. Caruso spent nearly 30 years in the United States Navy during which time he served as both a Diving Medical Officer and a Flight Surgeon.
He continues to practice clinical Diving Medicine and has been a consulting physician for the Divers Alert Network since 1994. Dr. Caruso has published numerous scientific abstracts, peer-reviewed papers, and book chapters in the field of diving medicine and has also authored scores of medical information articles for recreational diving magazines. He teaches diving medicine topics at courses and seminars including those provided by the Divers Alert Network, the Undersea and Hyperbaric Medical Society, and the National Oceanic and Atmospheric Authority and is a Fellow of the Undersea and Hyperbaric Medical Society.
Rick Zimmerman M.D.
Medical Advisory Board
Dr. Rick Zimmerman's journey to Denver Adaptive Divers is a beautiful triangulation of a history of diving, expertise in rehabilitative medicine and a passion for sports and adventure. Rick has been a PADI certified diver since 1996. Over the years he has managed to dive many unique places such as Hawaii, multiple locations in Mexico and the Caribbean; the Mediterranean Sea; Malaysia; and of course Cayman Brac, home of DAD annual life-changing retreat.
Dr. Z is a Board-certified Physical Medicine and Rehabilitation physician completing his training at the University of Virginia, Charlottesville in 2004. He is also fellowship-trained in Interventional Spine and Pain Management. It was in Virginia he integrated his passion for skiing (he is a former member and assistant coach for the University of Colorado Ski Team) and rehabilitation medicine.
For two years he trained to teach spinal cord injured athletes to ski in a modified sit-ski called a Monoski. He then volunteered three years for the National Sports Center for Disabilities in Winter Park with the Nordic ski program. Rick proclaims being part of these type of activities that transform "disability to ability," is some of the most rewarding work hw has ever enjoyed. Rick says, "Just like snow on an incline, water creates weightlessness that that removes physical barriers and creates mobility that is unattainable on dry land. It's pure magic."
Rick joined the DAD team in 2019 and serves on the medical advisory board. He looks forward to many years of beautiful dives with new friends and service with this organization he is so proud to be part of.
Judi Persoff, PhD Educational Psychology
Medical Advisory Board
Judi has worked her whole career with people having special needs including physical, developmental, intellectual, social, or mental health concerns. Her first nonprofit/grant writing opportunity was setting up a wilderness experience program for youth in foster care. This led to several years working in Therapeutic Recreation for hospitalized youth and adults, in mental health settings and community programs such as the Winter Park Disabled Ski program and the Breckenridge Outdoor Education Center.
She then changed her focus to early childhood intervention. In the field of early intervention, she worked with birth to three-year-old children with various delays in development including Down syndrome, autism, prematurity and physical delays. Judi was appointed Director of the Early Intervention Program through a local Community Centered Board. The program served all eligible children in Arapahoe and Douglas Counties. There were over 3000 babies and toddlers receiving services from OT, PT, Speech, Behavior, Social Work, Psychology and other needed developmental providers. Judi managed a budget of over six million dollars from multiple sources including county mill levy funds, state funds, insurance billing and federal dollars. Building and supporting a strong family advocacy component was key to serving the needs of these children. Grant support was needed to fully fund this program as well and fell under Judi's job description.
Judi has BA in Psychology, an MA in Therapeutic Recreation, and PhD in Educational Psychology from DU. She was subsequently licensed to provide Early Childhood Special Education.
Judi's interests in physical activity led her to getting certified in SCUBA in 2004 and then moving on to training to work with Scuba Rangers and becoming an Assistant Instructor through SSI.
Kara Leach M.D.
Medical Advisory Board
Kara attended medical school at University of Colorado, and during that time learned to love scuba diving during a trip to Cozumel in 2010. She completed her residency at Swedish Family Medicine in 2013 and has gone on to practice both primary care and hospital medicine in urban and rural settings. While working as Medical Director at a rural critical access hospital, I attended Diver Alert Network's course on diving medicine in 2015.
In 2017, she launched her own Leach Dive & Hyperbaric Medicine Consulting and supervised the hyperbaric chamber at Rose Hospital's Amputation Prevention Center. In the last several years, I she has expanded her personal diving into the technical realm with side mount, full cave, and decompression diving – all with dreams of diving deep wrecks. "I am thrilled to be working with Denver Adaptive Divers and am passionate about helping anyone who wants to dive figure out how to do so as safely as possible," she said.
Our Adaptive Scuba Trainers
---
John Sherman
D.A.D. Board Member, Denver Divers Head Service Technician, Scuba Assistant Instructor Trainer, Classified Diving Instructor Trainer
Teaching since 2012
When and where did you first learn to scuba dive? As one of my electives my junior year in college, I took scuba diving. A year later I went on my first ocean dive in Cozumel and have been hooked ever since!
What is your favorite thing about teaching diving? Passing on the excitement of scuba to someone else is my favorite part of teaching. It brings joy to me and to my students.
Craig Hilton
D.A.D. Board Member, Extended Range Scuba Instructor
Teaching since 2010
When and where did you first learn to scuba dive? My diving career started in 2000, when I was trained by the City of Denver to be a Public Safety Diver. It was only after diving in all the places you would never want to go, that I decided to discover the joys of diving for fun and I have never looked back!
What is your favorite underwater memory? Diving in the Revillagigedo Islands (Socorro Islands) for the first time was life changing. I was surrounded by so many different species of sharks and Giant Mantas on every dive, that I fell in love with the ocean and diving!
Corky Vickers
D.A.D. Board Member, Scuba Assistant Instructor Trainer,

Classified Diving Instructor Trainer
Teaching since 2009
What is your favorite underwater memory? My favorite memory is watching an adaptive student experience a new level of freedom the first time they swim on their own, discovering they are on equal ground with all of us.
What is your favorite dive destination and why? Indonesia is my favorite destination. The biodiversity and sea life are amazing.
Ali Miller
Denver Divers Partner, Scuba Instructor Trainer, Freediving Instructor Trainer
Teaching scuba since 2005 and freediving since 2013
What is your favorite underwater memory? My favorite underwater memory was the first time I found myself surrounded by sharks. It was 2009 and we were the only liveaboard at Roca Partida in the Revillagigedo Islands off of Mexico's Baja California coast. We were on our safety stop and all of a sudden a group of 500 silky sharks came out of the blue and surrounded us in peaceful serenity! I started screaming in joy, so much so my dive buddy had to make sure all was well. The ocean does and always will continue to surprise me at every turn.
What is your favorite thing about teaching diving? The best part of teaching scuba and/or freediving is seeing the happy faces of my students after accomplishment of their first open water dive. Passing on the joy, the love, and the appreciation for the oceans is my passion and is why I have dedicated my life and career to these amazing sports and to the ocean!
Michael Baclawski
Advanced Open Water Instructor
Teaching since 1997
What is your favorite dive destination and why? South Pacific - for the explosion of colorful life underwater and exotic islands and people above.
What is your favorite thing about teaching diving? I love to see the wondrous faces when a student overcomes a challenge or sees extraordinary beauty underwater for the first time on scuba!
Ray Brienza
Scuba Assistant Instructor Trainer
Teaching since 1984
When and where did you first learn to scuba dive? I tried diving for the first time in Acapulco, Mexico in 1977 and decided to get certified when I was in college in Kansas in 1983. The next year I became an assistant instructor at CSU and have continued to teach ever since!
What is your favorite underwater memory? Diving the Blue Hole in Belize. I saw stalacties and stalagmites in the middle of the ocean as I was surrounded by 7 Hammerhead sharks!
David Gilbreth
Divemaster Instructor, Recreational Rebreather Instructor
Teaching since 2001
What is your favorite thing about teaching diving? My favorite part of teaching SCUBA is proving it is possible for everyone, especially when you have a personal doubt. Watching the realization in the diver's eyes is the best reward.
What is your favorite dive destination and why? The Solomon Islands haves every aspect of the adventure: Travel, History, unique marine life, local culture, and wonderful people.
Donita Hilfinger
Scuba Assistant Instructor
Teaching since 2017
When and where did you first learn to scuba dive? I first learned that diving was an option in 2005. I received my open water diver certification in 2005 from Denver Divers. As I gained experience, I realized that I wanted to help others enjoy the experience as well and received my AI certification in 2017.
What is your favorite part about teaching scuba diving? Sharing the joy of diving with others. Helping them to see the fantastic animals and plants that cannot be experienced on land!
Ted Kays
Advanced Open Water Instructor
Teaching since 2017
What is your favorite thing about teaching diving? I enjoy having the opportunity to work with a diverse group of students who are excited to learn about and experience a new part of their world. I re-live my own personal experience with each class.
What is your favorite dive destination and why? Lembeh Strait in North Sulawesi, Indonesia is biologically and culturally fascinating!
Britni Minichino-Sikora
Scuba Open Water Instructor
Teaching since 2019
What is your favorite underwater memory? I really enjoy swim-throughs. It doesn't matter where I am diving, if there is one, I am usually going through it. Taking my time, I love observing the different formations and colors of the rock and coral. And you cannot forget the marine life that calls it home.
What is your favorite thing about teaching diving? It is truly rewarding watching students overcome their initial fear they may come in with and become confident divers. Watching students become comfortable in their skills, water, and environment is pretty awesome to see.
Harris Neil
Scuba Assistant Instructor Trainer,

Classified Diving Instructor Trainer
Teaching since 2013
What is your favorite underwater memory? Being with friends when special things happen, like encountering dolphins, octopus, or the other sea life you only get to see on rare occasions.
What is your favorite dive destination and why? As soon I think one place is a "favorite", I have a great day at another. I don't have a favorite, but I'm continuing the search.
Vincent Phelan
Advanced Open Water Instructor
Teaching since 1991
What is your favorite underwater memory? Every dive with my family is the best and builds lifetime memories!
What is your favorite dive destination and why? Galapagos Islands! The diverse and unique sea life that can be encountered!
Glenn Tucker
Advanced Open Water Instructor
Teaching since 2001
What is your favorite thing about teaching diving? My favorite part of teaching scuba is helping my students accomplish something then end up being very proud of!
What is your favorite dive destination and why? Palau - There is a huge variety of exotic marine life, big and small. The reefs are in great shape and the locals are very friendly.
Patti Vickers
Scuba Assistant Instructor
Teaching since 2011
What is y our favorite underwater memory? In the Maldives with the manta rays hovering above us playing in our bubbles. They are beautiful and elegant to watch. On the same dive our group hid behind coral from a titan tigger fish protecting her babies.
What is your favorite dive destination and why? Indonesia, the soft corals, varieties of clown fish, nudibranchs, the manta rays and the only dive trip I've seen pigmy seahorses.
Quick Links