CPR/First Aid & Oxygen Provider Certifications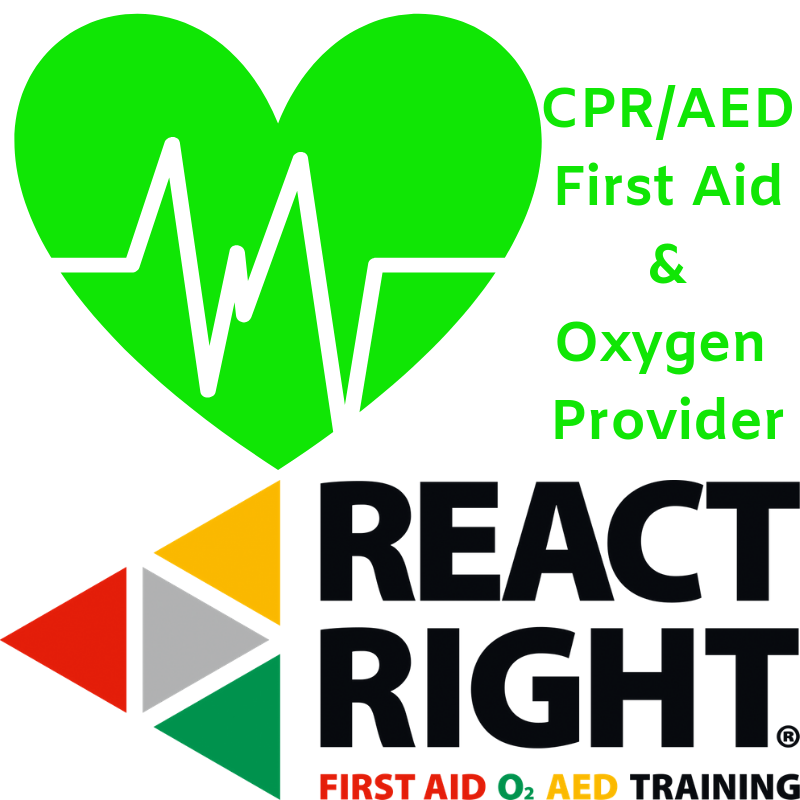 SSI React Right
CPR/AED/First Aid & Emergency Oxygen Provider

Tuition $125
Duration: 4-5 hours
Academic Materials Fee: $75 online materials
SSI React Right
Emergency Oxygen Provider

Tuition $50
Duration: 2 hours
Academic Materials Fee: $75 online materials
Divers Alert Network
BLS (CPR/AED/Frist Aid)

Tuition $85
Duration: 3-4 hours
Academic Materials Fee: Free online materials
Divers Alert Network
Emergency Oxygen Provider

Tuition $85
Duration: 3 hours
Academic Materials Fee: Free online materials
---
Required Equipment: All participants must provide their own Oronasal Resuscitiation Mask as part of the training for any emergency course.
SSI's React Right CPR/AED/First Aid & Emergency Oxygen Provider Course
React Right is SSI's emergency training program, consisting of the following basic components: Primary Assessment, First Aid & CPR Skills, Primary Stabilization Techniques, and includes two optional components: Oxygen Administration in Diving Emergencies and Automated External Defibrilation Basics. Students who complete this program earn the SSI React Right specialty certification.
SSI's React Right Emergency Oxygen Provider Course
React Right Oxygen Provider is SSI's emergency oxygen first aid class. In this course, students will learn how to safely assemble and disassemble an emergency oxygen kit. They will also learn which components of the oxygen kit are to be used for an injured diver, based on the condition of that diver. Students will be required to apply what they have learned by responding to several emergency scenarios, applying appropriate use of the oxygen equipment to each scenario. Students who complete this program earn the SSI React Right specialty certification.
DAN Basic Life Support & First Aid Course
The DAN Basic Life Support and First Aid (BLSFA) course provides entry-level training in providing basic life support (BLS) to adults with life-threatening injuries while activating emergency medical services (EMS). Basic life support includes airway-management skills such as the log roll and recovery position, one-rescuer cardiopulmonary resuscitation, use of an automatic external defibrillator (AED) and additional skills like caring for a choking person, controlling bleeding and caring for a person in shock. The first aid portion of this program includes key skills such as illness and injury assessments, bandaging and splinting skills and emergency moves. This program meets current American Heart Association (AHA) and International Liaison Committee on Resuscitation (ILCOR) guidelines on Cardiopulmonary Resuscitation and Emergency Cardiac Care. It is an instructor-led program featuring skills demonstrations, both in video and in person, and skill practice with mannequins.
DAN Emergency Oxygen Provider Course
DAN Oxygen First Aid for Scuba Diving Injuries course is designed to train and educate scuba diver in the techniques of using oxygen as first aid for a suspected dive injury. In addition, this course will introduce novice divers to the fundamentals of recognizing diving injury warning signs, response and management. The course is not designed to train lay persons to provide oxygen to the general public. While the medical standards and equipment are the same regarding the emergency use of oxygen for both divers and non-divers, the DAN Oxygen Provider course does not prepare individuals to respond to the ill or injured member of the general public by using emergency oxygen.
Upcoming Course Dates
How far will you go?
Specialty Diver Certification
# of Dives Required: 12 Logged Dives
# of Courses: Minimum 2 Specialty Classes
Bundled Price: $265 for 2 standard Specialties ($25 savings)
Bundled Price with Nitrox: $310 for Nitrox and 1 standard Specialty ($80 savings)
---
Advanced Diver Certification
# of Dives Required: 24 Logged Dives
# of Courses: Minimum 4 Specialty Classes
Bundled Price: $515 for 4 standard Specialties ($80 savings)
Bundled Price with Nitrox or Science of Diving: $565 for Nitrox or Science of Diving and 3 standard Specialty Courses ($115 savings)
---
Master Diver Certification
# of Dives Required: 50 Logged Dives
# of Courses: 4 Specialty Classes
Additional Course Requirement: Stress & Rescue
Bundled Price: $780 for 4 standard Specialties and Stress & Rescue ($105 savings)
Bundled Price with Nitrox: $830 for Nitrox, 3 standard Specialty Courses, and Stress & Rescue ($155 savings)
---