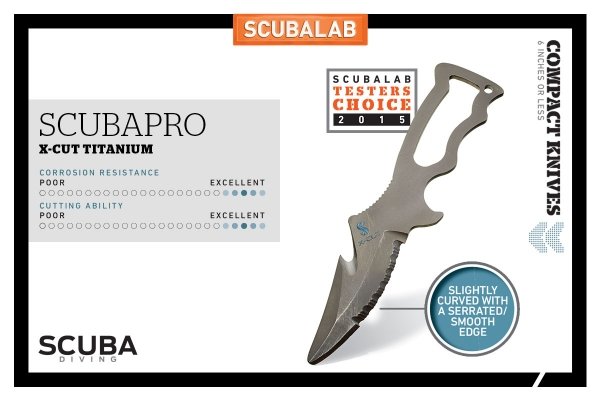 "Made from a single block of titanium, the X-Cut is just 5.6 inches in length and 1/8-inch thick. But it has a big bite, with the 2.5-inch blade cutting with surprising ease through everything from heavy plastic line to braided nylon. The blade's design — slightly curved with serrated and smooth edges — makes the most of a short cutting surface. The handle is none too big and a little hard on bare hands for difficult cuts, but the forefinger guard and grooved thumb grip help maintain a steady hold. The soft sheath (with a belt loop) makes the most of the X-Cut's compact size (the hook-and-loop locking tab must be closed carefully to keep the knife securely in place). The X-Cut Titanium was our Testers Choice in the compact-knife category."



Also received SCUBALAB BEST TRAVEL GEAR 2015
"Shaped from a block of hardened titanium, the corrosion-resistant X-Cut is less than 6 inches long and weighs, well, we're not actually sure, since our scale won't read anything less than an ounce. It has smooth and serrated edges, a line cutter, and index finger and thumb stops for a good grip. It comes with a soft sheath that fits on a tech harness waistband."